New York Truck Accident Lawyers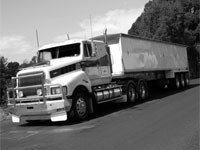 Whether the accident was a car accident, truck accident, or SUV accident, proving negligence in an auto accident frequently boils down to showing that a driver violated a New York traffic law. Violating a traffic law is often dispositive in proving who was at fault and therefore, who must compensate the injured victim for losses as a result of the accident. If a driver is given a ticket for violating a rule, then he or she likely caused the accident. In instances where the negligent party was driving a commercial truck the rules are the same. If the driver of the truck violated a law related to operating the truck and as a result caused an accident, then the truck driver or the driver's employer would be liable. However, a lawsuit against a truck driver or a truck company can be very different from a lawsuit against the driver of a car as the laws that apply to the trucking industry are different. If you were injured in a truck accident, you should contact an experienced New York Truck Accident Lawyer who can help you understand how trucking laws impact your case and advise you on the best course of action.
Truck safe laws
Of course truck drivers must follow the same basic rules of the road as cars, such as stopping at red lights and obeying posted speed limits. However, the trucking industry is subject to additional rules both on the federal and state levels that effect the licensing of truck drivers, the insurance trucking companies must carry, and the operation and maintenance of the trucks.
In order to qualify for a license to drive a commercial truck, drivers must attend special classes on how to operate a truck safely. 49 CFR §380. Thus, if you are injured in an accident where the truck driver did not receive the proper training or did not have the required license, then the truck driver will be liable for your injuries. If the trucking company that employed the driver knew that the driver was not properly trained or failed to make sure that the driver had the proper training and credentials, then it was negligent as well. In addition, the Federal Motor Carrier Safety Administration (FMCSA) issued regulations requiring routine alcohol and drug testing for truck drivers, the proper transportation of hazardous materials, compliance with hours of service rules, maintaining log books, and truck maintenance. If a truck driver or his or her employer violates any of the FMCSA's rules resulting in an accident, then negligence can be fairly easily established, strengthening a victim's personal injury lawsuit against the truck driver and the trucking company.
Pursuing a claim
Truck accidents can be devastating to a victim and his or her entire family. Because of the massive size of trucks even low impact, low speed accidents can have catastrophic results. Common types of truck accidents occur when a truck that has a trailer jack-knifes, causing the trailer to swing out to form a 90-degree angle. The trailer collides with other vehicles, sometimes causing multi-vehicle pile-ups leaving many injured. Truck accidents also occur when a truck's load was not properly secured. The load then shifts or even falls, causing an accident. Tire blow-outs on a truck driving at a high speed can cause the truck driver to lose control of the vehicle and end up in an accident.
Truck accidents can leave to devastating injuries such as a spinal cord injury, broken bones, back injury, amputation, paralysis, and all too often, death. Through a personal injury lawsuit, New York law allows you to hold the negligent party responsible for the losses you suffered. The compensation that you may be entitled to receive includes past and future medical expenses, lost income and loss of future earnings capacity, and pain and suffering. In addition, if a family member was killed in a truck accident, you may be able to pursue damages in a wrongful death lawsuit.
New York Truck Accident Lawyer
If you were a victim of a truck accident it is important to immediately contact an experienced truck accident attorney. The rules that apply to trucks are complicated and distinguishable from the rules that apply to cars. Thus, it is critical that the lawyer representing you is familiar with the nuances of the laws that apply to truck accidents to ensure that your case receives the best possible outcome. Contact Stephen Bilkis and Associates to discuss the details of your case. Our staff is experienced in handling claims resulting from a truck accident, as well as a SUV accident, car accident, or motorcycle accident. Contact us at 800.696.9529 to schedule a free, no obligation consultation regarding your case.