New York Medical Malpractice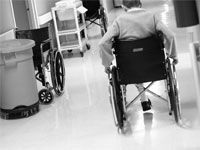 When you visit a doctor, you expect that the doctor will provide you with competent, skilled medical care. Unfortunately, mistakes do happen. Sometimes the results of medical mistakes are tragic. Medical malpractice can occur in several different ways. The most common type of malpractice is medical misdiagnosis. As a result of a misdiagnosis or some other type of medical malpractice, each year patients suffer injuries such as paralysis, severe back injuries, birth injuries or even an unwarranted amputation that require the patient to endure lifelong treatment. Sadly, in many cases the patient does not survive. If you or a loved one has been injured due to medical malpractice it is important to speak with an experienced New York Medical Malpractice Lawyer who will review the facts of your case and explain to you your legal options for pursuing a personal injury claim or a wrongful death claim.
Common types of medical malpractice
A wide variety of situations can lead to a medical malpractice claim. For example, a claim could be based on a birth injury such as cerebral palsy, failure to diagnose a serious illness such as cancer, emergency room errors, a delay in treating a medical condition, medication errors, anesthesia errors, and surgical errors. However, most medical malpractice claims fall into one of three general categories:
Failure to diagnose. Simply because your doctor did not correctly diagnose your illness in a timely manner does not mean that your doctor committed medical malpractice. The standard is whether a competent doctor would have discovered your illness or made a different diagnosis which would have prevented your condition from deteriorating of which have resulted in your condition improving. If so, then you may have a medical malpractice claim.
Improper treatment. If your doctor treats you in a way that no other competent doctor would and as result you are harmed, you may have a viable malpractice claim. In addition, if your doctor selects the appropriate treatment but administers in a manner that no competent doctor would, you may have a medical malpractice claim.
Failure to warn. Doctors have a duty to warn patients of known risks of a procedure or course of treatment. This duty is referred to as the duty of informed consent. If your doctor failed to advise you of known risks and it is likely that you would have elected not to go through with the procedure, then your doctor may be liable for medical malpractice if you were harmed by the treatment or procedure in a way that the doctor should have warned could happen.
Example
Plaintiff Willi Braun complained to his physician, Dr. Naseer Ahmed, of an irritation on the foreskin of his penis. Dr. Ahmed diagnosed an inflamed foreskin and prescribed an ointment. Since Braun's condition did not improve after 7 months, Dr. Ahmed recommended a circumcision. Braun scheduled the circumcision for the next month, but cancelled. Braun continued under the defendant's care for another medical condition. A year later Braun was circumcised after his condition deterioriated. A biopsy revealed cancer and Braun had to have a partial penectomy a month later. Braun filed a medical malpractice lawsuit against Dr. Ahmed based on Dr. Ahmed's failure to warn Braun of the possibility of penile cancer and that his condition did not require immediate surgery. The jury returned a verdict in favor of Braun. Braun v. Ahmed, 515 N.Y.S.2d 473 (N.Y.A.D. 2 Dept., 1987)
Pursuing damages
Patients injured by malpractice in New York are entitled to compensation for their resulting medical expenses related to the breach of care. A successful claim can also result in damages for:
Lost wages, including lost future wages
Pain and suffering
Loss of enjoyment of life
Cost of physical therapy
If the patient died due to a medical mistake, the victim's family can pursue compensation by filing a wrongful death claim.
New York Medical Malpractice Lawyer
If you or a loved one was injured due to the incompetence of a healthcare professional, you should contact an experienced attorney who understands the legal issues associated with medical malpractice cases. Stephen Bilkis and Associates is experienced in handling cases involving medical misdiagnosis, failure to warn, improper treatment, as well as other types of medical malpractice claims. In addition, we also represent clients in personal injury and wrongful death cases stemming from auto accidents, slip and fall accidents, and other types of accidents. Contact us at 800.696.9529 to schedule a free, no obligation consultation regarding your case.